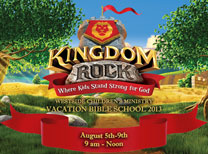 VBS 2013: "Kingdom Rock" - Signup Now!
Kingdom Rock VBS, where kids stand strong for God. Enter the epic adventure that empowers kids to stand strong. This isn't a fairy tale, it's an experience that will transform kids forever! Join us for an unforgettable week of fun. Sign up today.
Dates: Aug 5th-9th 9:00-12:00
Details: Open to kids entering Kindergarten through sixth grade. $10/child. Please sign up each child separately!
Read More