Mission: Kenya
>>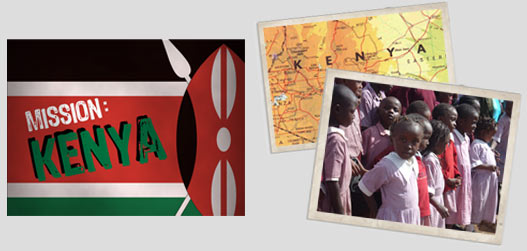 Westside Church is partnering with WorldComp Kenya Relief International to minister to the needs of the people of Kenya. Worldcomp was founded by our former Senior Pastor, Richard Vicknair and is a joint venture involving hundreds of Kenyan Nationals and American volunteers. Together we are making a difference in the lives of thousands of suffering people in Kenya. Visit Worldcomp's website at: www.worldcompkenya.com
THE BROAD MINISTRY OF WORLDCOMP
Feeding children in the slums –
KARA KIBERA CHILDREN CENTER – KIBERA SLUMS, NAIROBI
Our feeding and literacy programs feed 380 children each day in the slums of Nairobi. WorldCOMP volunteers transport, cook and serve children these precious children. For most of them, it is the only meal they receive. During their time at our centers slum children are taught basic literacy: reading, writing, and math and older children are taught jewelry making and sowing.
LENANA PRIMARY SCHOOL – DAGORETTI SLUMS
WorldComp has partnered with Kenyan Teachers and Community Leaders to start and maintain a primary school for slum children. This school now has 275 students from Kindergarten to 8th grade. All of our students are from the slums and were not able to attend school due to financial hardships. All of our staff are dedicated "volunteer teachers" who are donating their time while waiting for positions in the school system. Sadly there is a 28% unemployment rate in Nairobi. Many of these teachers have been with us for 3 and 4 years. Worldcomp has provided funds for the basic essentials of the school. We have built classrooms, a new library, supplied books and teaching materials, improved the grounds, installed electricity, built latrines, and provided some financial help to teachers. In addition, through WorldComp's feeding programs the children of Lenana School are fed a healthy lunch each day and their health is monitored by our staff.
AIDS ASSISTANCE TO SLUM FAMILIES
In the slums around Nairobi HIV/AIDS is out of control. Tens of thousands of men, women and children are infected with the disease, but most of them have never been tested or treated. Our DANSO Group (Dandora Aids Network Support Organization) has established a Christian community within the slums to help individuals and families affected by HIV/AIDS. Community members help in many practical ways. Testing, Treatment, Dietary Essentials, Food, Childcare, Community Support and Business Development through our DANSO Microfinance Fund
HELPING HUNDREDS OF WIDOWS THROUGH MICROFINANCE
WorldCOMP has established 3 Microfinance Funds in three different cities to help widows start businesses to support their families. At this point we have started just over 200 businesses. Participants receive business counseling, ongoing advice and accountability to maximize their long-term success. All of our revolving funds are managed by teams of Kenyan women and they are doing a wonderful job of managing money and mentoring women.
JUVENILE OFFENDER REHAB, PERSONAL CARE, VOCATIONAL TRAINING & SUPPORT
In partnership with the Shikusa Boys Detention Center, WorldCOMP has adopted the 540 boys of this detention center as an ongoing project. These boys, 13-18 years of age, live on a work farm. Only 4 years ago the Center was like a forced labor camp. The boys were in rags, living in fear in a hopeless abusive environment. Their health was very poor and many died during their stay at Shikusa. Through the tireless efforts of WorldCOMP boardmember Dr. George Matimbai, there has been an amazing transformation in this place. The boys are now well fed. The detention center staff have virtually all come to Christ, most of the boys have accepted Christ. We have provided many vital supplies to help these boys: Books, Beds, Bedding, Shoes, Toiletries, Sports Equipment, Medical Supplies, Vitamins and more. We are now building a medical clinic on the site and dreaming of half-way houses and work internships for these boys, so that when they get out they will have a place to go. Future Vision: To be involved in the same way at the other Boys Detention Center near Nairobi.
MEDICAL CAMPS - PRIMARY HEALTH CARE FOR THE POOR
WorldCOMP's Medical Camps, bring together Kenyan and American Doctors and Nurses medical camps. These camps are held at Church and School Facilities and give lifesaving medical attention to thousands of poor people who cannot afford a doctor or medicine. Our last camp in August 2011 served 5500 patients in six days of camp. The medicine and equipment costs are donated. In addition to basic medical care our camps include; screening for AIDS, Malaria and Typhoid, Eye examinations, Cervical Cancer Screening, Dental Care – tooth extractions, and health maintenance seminars. Each person in our medical camp is prayed for by our prayer team. Many people have been healed and have come to know Christ.
DIGGING WELLS AND BUILDING LATRINES:
WorldCOMP is digging wells on Church properties around Kenya. Churches that apply for one of these wells must agree to maintain and open the well to the community. Everyone is welcome. Our well in the village of Kimbo serves over 1000 people everyday in an area where clean water is not available. Many children and adults have died in Kimbo due to unsanitary water. An amazing thing has happened as a result of these wells. Tribal and religious tensions have eased in every place where one of these wells has been made available to the community.
LEADERSHIP AND CHURCH MOBILIZATION
The primary work of WorldCOMP is carried out by Kenyan volunteers. Training is a vital part of what we do. We hold meetings and conferences for leadership development. Our primary focus is to help local churches develop relief strategies and organize volunteers to meet critical needs in their own communities. A primary objective is to train and equip Kenyan nationals to lead the way in their nation and churches. In an affluent society such as ours, we have the opportunity to make a huge impact in the lives of those less fortunate in other parts of the world. It's in recognizing this that we have been increasing our efforts to be a source of relief, provision, and hope for those living in poverty of body and soul in the third world. God has directed us to focus on the nation of Kenya as we have a very unique opportunity to make a major impact both spiritually and socially.
Lenana Primary School